LATEST NEWS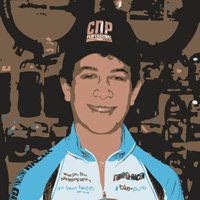 FIRST WIN ABROAD FOR WILMSLOW CYCLIST
Posted 10:01 am May, 2012
Wilmslow cyclist Christian Braybrooke has secured his first win abroad with Team Velocity-3-IN-ONE- CNP.
Talented 16-year-old Braybrooke raced in Veldegem, Belgium scooping first place demonstrating his talent, skill and technical racing skills.
The race, Braybrooke's first in the country this year, saw him conquer 77 other riders on the 60 mile closed road circuit, made up of 11 twisty 5.3km laps.
The race set off at a fast pace with a few riders trying their luck early on, including Velocity-3-IN-ONE member and Christian's brother Alex Braybrooke (14) getting in a break for two and a half a laps.
However, Christian made a formidable attack, coming into the final corner with 5km remaining andhis technique earned him style points and first victory, cheered by the home crowd. He then followed up the following weekend in an equally tough race coming a very credible 11th
3-IN-ONE's assistant brand manager, Kieron Roberts, commented: "Team Velocity 3-IN-ONE-CNP is packed with talent and it is brilliant news to see them showing this away from home ground."